San Diego Grandparents' Visitation Lawyers
Protecting the Bonds of Extended Family with the Law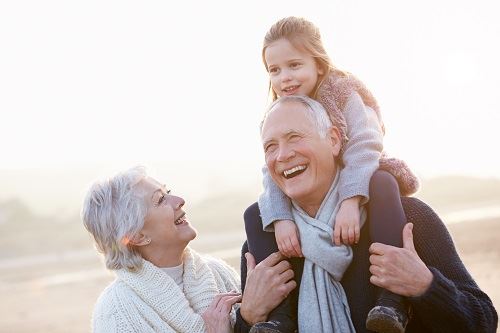 "It takes a village to raise a child." This well-known truism highlights an important fact—children are provided the best life when they have access to all types of familial support, not just parents. If you are a grandparent looking to establish visitation rights with your grandchild, let our grandparents' visitation attorneys give you the answers and legal assistance you need.
Family Law San Diego has decades of collective experience handling family law situations of all kinds, especially regarding the well-being and custody of children. We have handled many situations where grandparents sought a legally-validated relationship with their grandchildren.
Call (619) 577-4900 to schedule a free consultation with a San Diego family lawyer. Our primary role is making sure you are aware of all your options and how to best pursue visitation rights with your grandchild.
Understanding Grandparents' Visitation in California
Normally, when two parents are married (or have custody), they have decision-making power over their child's relationships with third parties, including grandparents. That means grandparents cannot petition for visitation if both parents (including their own child) forbid it. However, there are exceptions to this situation.
Generally, a grandparent may petition for visitation rights when:
The child's parent has died (Family Code 3102)
There is a pending dissolution or other ongoing family matter that affects child custody (Family Code 3103)
The child's parents are unmarried
One parent has been absent for over a month with unknown whereabouts
A stepparent has adopted the child
The child is not residing with either parent
One parent is incarcerated or involuntarily institutionalized (Family Code 3104)
Parents are no longer living together
Grandparents sue for visitation in conjunction with a parent
The child does not live with his or her biological parents
The court will only grant visitation rights if the grandparent and the grandchild have had a prior bond, especially when continuing that bond is in the best interests of the child. Generally, the court will also consider whether the grandparent has been completely cut off from access to grandparents with whom they have the requisite bond.
The grandparent has the burden to prove by clear and convincing evidence that denial of visitation with the grandparent is not in the child's best interest. Above all else, your grandchild's best interest is the court's highest priority.
Affirm Grandparents' Visitation Rights Through Mediation
Mediation may also be a solution for you, rather than a court-filed petition. Mediation would allow you to develop a visitation agreement with your grandchild's guardians outside of the court's influence, allowing you to have a frank and open discussion. It is often an effective way to craft a legal solution without the emotional strain and tension of a trial.
Our attorneys are highly trained mediators, with hundreds of hours of legal specialization in the art of negotiation and mediated resolutions. If you want a peaceful and cooperative solution to your case, retaining a mediation attorney could be the answer you are looking for.
Contact Our Family Law San Diego Attorneys
For information regarding your specific case, you will want to discuss it in a free consultation with a legal professional. Our firm, which includes board-certified family law experts and highly-trained mediators, offers a free consultation to help you get answers quickly.
Call us at (619) 577-4900 or contact us through our simple online contact form. LEADERS IN FAMILY LAW
REASONS TO WORK WITH Family Law San Diego
Comprehensive

As skilled litigators, mediators, and negotiators, our firm is prepared to handle any type of family law case.

Collaborative

Working together, we pull from our unique backgrounds and resources to achieve the best results possible.

Innovative

We create tailor-made solutions to fit the unique needs of every client and help them move forward favorably.

Dedicated

We are committed to serving a diverse clientele, all the while protecting the interests and fulfilling the needs of clients.
I would absolutely recommend this firm! - Gerilyn H.

It was a joy to work with him and the entire firm! - Nina F.

We were successful, despite the opposing party's contention. Thank you again to Garrison Kleuck and his entire team. - Jennifer B.

I appreciate all the hard work everyone demonstrated during my legal issue, first and foremost Garrison! - Jean M.

It feels good to have you on our side. - Kevin