San Diego Child Custody Lawyer
Award-Winning Child Custody Attorneys Serving San Diego, California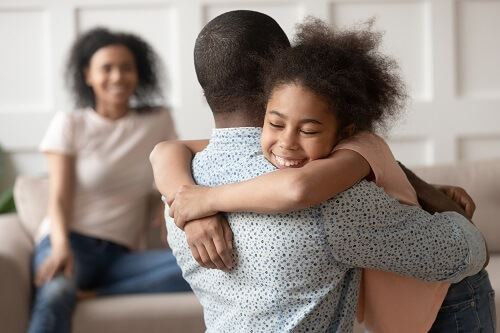 The question of who has custody over your child is likely the most important, most emotionally distressing question you will ever have to answer in the divorce process. The stakes involved means there is no margin for error—how your child custody case is presented or how you craft the agreement could affect your family's lives for decades to come. Thankfully, you have an ally with our San Diego child custody lawyers at Family Law San Diego.
Call (619) 577-4900 today to schedule a free initial consultation with an experienced San Diego child custody lawyer today.
Types of Child Custody in CA
In the state of California, there are two types of child custody:
Legal custody refers to a parent's right to make decisions about the child's life, such as decisions with their health, education, and welfare.
Physical custody refers to a parent's right to spend time with and live with their child.
Our child custody lawyers serving San Diego have decades of collective experience that we put to work for our clients to fiercely and relentlessly protect their futures. We create child custody agreements that are innovative, creative, and above all, uphold your child's best interests.
How Does the Court Determine Child Custody in California?
When it comes to child custody in San Diego, the Family Courts throughout San Diego County are led by one question: what is in the best interests of your child? Every custody case hinges on proving that a parent is the person to guide and care for a child. Your San Diego child custody lawyers will have to present your case before the court if there is no agreement and believe you should have primary custody (or additional custody in a modification case).
Judges will use the following criteria in order to evaluate your claim:
Each parent's lifestyle
Each parent's financial situation
The child's choice (if old enough)
How healthy each parent is (mentally and physically)
The ability of each parent to provide food and shelter
The relationship between each parent and the child
Any record of domestic violence or substance abuse
How disruptive each parent's lifestyle is to the child's
Is California a Mother or Father State?
Since the court determines child custody based on the best interests of the child, California child custody laws do not inherently favor either parent.
What Makes a Parent Unfit In California?
The California court may deem a parent unfit if he or she demonstrates any of the following:
An inability to make age-appropriate parenting decisions;
A lack of understanding or response to the child's needs;
Insufficient historical involvement in the child's life;
An unwillingness to cooperate with the other parent when it comes to the child's best interests;
A history of child abuse or domestic violence;
Issues with substance abuse;
A mental illness that interferes with the child's wellbeing; and/or
Unhealthy social behaviors.
To speak with an experienced San Diego child custody lawyer, give us a call at (619) 577-4900 or contact us online today.
Protect Your Child's Best Interests
When it comes to child custody, the most important factor is always the well-being and best interests of your child. At Family Law San Diego, our experienced child custody attorneys are dedicated to advocating for your child's rights and ensuring their safety and happiness.
Our team understands that child custody cases can be emotionally challenging and complex. We are here to guide you through the legal process, providing compassionate support and expert advice every step of the way.
With our extensive knowledge of California child custody laws and our track record of success, you can trust us to fight for the outcome that is in your child's best interests. We will work tirelessly to protect their rights and secure a fair and favorable custody arrangement.
By choosing Family Law San Diego, you are choosing a team that is committed to helping you navigate the complexities of child custody proceedings and achieve the best possible outcome for your child. Contact us today to schedule a free consultation with one of our skilled child custody lawyers in San Diego.
Why Turn to Family Law San Diego
Our child custody lawyers serving San Diego are known for our two sides: we are kindhearted and compassionate when it comes to our clients, but we are aggressive, commanding litigators in the courts. When our client's and their family's well-being are at stake, we do not cut corners and we do not back down.
Our representation has been honored time and again by the legal community, including:
Perfect 10.0 "Superb" Avvo rating
Inclusion in Super Lawyers®
3-time inclusion in Best of the Bar in San Diego Business Journal
Voted Best Overall Law Firm in San Diego by readers and residents
Board Certification in Family Law by the California Board of Legal Specialization
Our San Diego Child Custody Lawyers Can Help
Let our San Diego child custody lawyers provide your options and choices. In the beginning stages of your case, our attorney's primary role is empowering you with information. Most people know their legal options once an attorney clarifies them. Our San Diego attorneys for child custody cases can also help educate you on your case's intricacies, equipping you to make confident and well-informed decisions.
Call

(619) 577-4900

Today for a Free Consultation, or Contact Us Online to Schedule an Appointment With a Skilled Child Custody Lawyer in San Diego!
We have our primary office in La Mesa and a satellite office in La Jolla available by appointment!
Related Reading LEADERS IN FAMILY LAW
REASONS TO WORK WITH Family Law San Diego
Comprehensive

As skilled litigators, mediators, and negotiators, our firm is prepared to handle any type of family law case.

Collaborative

Working together, we pull from our unique backgrounds and resources to achieve the best results possible.

Innovative

We create tailor-made solutions to fit the unique needs of every client and help them move forward favorably.

Dedicated

We are committed to serving a diverse clientele, all the while protecting the interests and fulfilling the needs of clients.
I would absolutely recommend this firm! - Gerilyn H.

It was a joy to work with him and the entire firm! - Nina F.

We were successful, despite the opposing party's contention. Thank you again to Garrison Kleuck and his entire team. - Jennifer B.

I appreciate all the hard work everyone demonstrated during my legal issue, first and foremost Garrison! - Jean M.

It feels good to have you on our side. - Kevin