Garrison "Bud" Klueck
Attorney, Mediator, & Founding Partner
Board-Certified San Diego Family Specialist
Outstanding family law attorneys are often distinguished by their relentless commitment to their client's well-being, their innovative solutions, and their ability to create mutually-beneficial agreements from complex, high-stress situations. For Garrison Klueck, his practice is founded on more than his understanding of the Family Code—it is founded on his compassion and his understanding of his client's deepest needs and fears.
Sharpening His Legal Expertise
Because he is a Board-Certified Family Law Specialist, as granted by the California Board of Legal Specialization, Garrison is already a deeply knowledgeable lawyer. However, his knowledge of the law is not all that makes him a highly-renowned family law attorney. As the holder of three Master's Degrees, including one in Counseling Psychology, Garrison is highly-trained in other disciplines that serve his clients. He has always been a passionate learner, and he applies the same ethic to his cases, where he gathers a wealth of information about his client's situations in order to serve them better.
Garrison has also committed a significant portion of his career to sharpening his legal insight: he has taken hundreds of hours' worth of courses in minor's counsel, mediation, contempt, prevention of domestic violence, and other subjects that have served his clients. In addition, he has extensive experience in collaborative and cooperative law, and is credentialed by the National Dispute Resolution Center as a mediator.
Practice Areas:
Education
Garrison Klueck graduated with his Juris Doctor from the University of San Diego in 1986, beginning his highly-renowned legal career. While studying law, he was the Executive Editor of the Law Review, where his article was published: "The Coming Jurisprudence of the Information Age."
He also received the American Jurisprudence Award for being first in his class in Criminal Law, Contracts, and Community Property Law.
Garrison has additional formal education that most attorneys do not have. Before law school, he earned a Master's Degree from San Diego State University in Communication. After establishing his legal career, Garrison decided to continue his formal education even further. As a Christian attorney, he studied at Southern California Seminary. In the seminary, he earned two Master's Degrees, one in Counseling Psychology and the other in Religious Studies. The additional education informs Garrison's practice of law on a daily basis and helps him continuously to serve his clients better.
University of San Diego School of Law, San Diego, California
San Diego State University, San Diego, California
Southern California Seminary, El Cajon, California
Southern California Seminary, El Cajon, California
Wayne State University, Detroit, Michigan
Honors, Achievements, & Awards
For his incredible work in serving the families of San Diego, Garrison has been honored with positions of influence within the legal community, as well as the community at large. He is frequently a guest expert or host regarding family law matters on 760 KFMB-AM and San Diego 6-TV. He has also been the President of the Foothills Bar Association and the Vice President of the San Diego County Bar Association, directing the development of legal practice in Southern California.
Garrison's other awards and honors include:
Elected to San Diego County Bar Association Board of Directors, 1/1/2017 – 12/31/2019
"Best of the Bar" San Diego Business Journal, 2016
"Best Panel Member" 50th Anniversary of San Diego Bar Association Lawyer Referral and Information Service
Perfect 10.0 "Superb" Avvo rating
Selection to Super Lawyers® 2007, 2008, 2009, 2010, & 2011
San Diego Transcript "Top Attorney" 2007, 2008, & 2012
Trustee of the San Diego County Law Library 2004-2007
2004 Foothills Bar Award winner—first non-judicial officer recipient?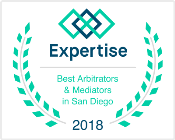 Pre-Law Career
Prior to becoming a family law attorney, Garrison enjoyed a 12-year career in broadcasting and media. He has produced shows on network-owned or affiliate stations for ABC, CBS, NBC, and PBS. He has also worked in the public relations and advertising fields. His ability to coordinate others in order to produce a single, cohesive whole is part of what makes his legal practice so remarkable today.